Crater Rim Cabin
Volcano, Island of Hawaii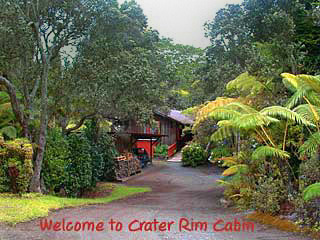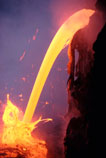 IMPORTANT NOTE, July 30, 2018:
Just to let all of our guests know, we are just fine here at Crater Rim Cabin!
We are 2.25 miles from the activity at Halemau'ma'u Crater and over 25 miles from the lava flows on the southeast part of the Big Island.
We are feeling the excitement of frequent small earthquakes, but have experienced no damage from them.
The predominate trade winds have been carrying any gas and ash from the summit, away from us to the southwest.
Although the National Park is presently closed, there are many beautiful places to safely explore on the Big Island.
Crater Rim Cabin makes an excellent base for such exploration. Please email us with questions or for current updates!
https://www.experiencevolcano.com/
••• CLICK HERE TO CHECK AVAILABILITY AND MAKE RESERVATION •••
Please click here for our Rates and Cancellation Policy

Your own private one bedroom cabin with full living room, kitchen and bath. Smoke-free.
FREE: 24 hour broadband wireless internet!
Take a look at your beautiful accommodations!
Rest and relax at the summit of Kilauea Volcano on the Big Island of Hawaii.
• Situated in Volcano, Hawaii, at the edge of the fern-ohia forest,
just outside the boundary of Hawaii Volcanoes National Park.
• 15 minute walk to Crater Rim Trail and Volcano Golf Course.
• 2 miles to Park Visitor Center... 3.5 mile drive to see the active summit crater...
• 22 mile drive to black sand beach
••• An immodest note ••• Our guests unanimously tell us that they wished
that they had planned to stay longer at Crater Rim Cabin...especially those that booked only 2 nights.
There is a lot to do and see in the Volcano area! It is difficult to fit it all into only one full day!
Contact Us
For beautiful accommodations on the Kona side of the Big Island visit - Horizon Guest House